PORTABLE MIG WELDING MACHINE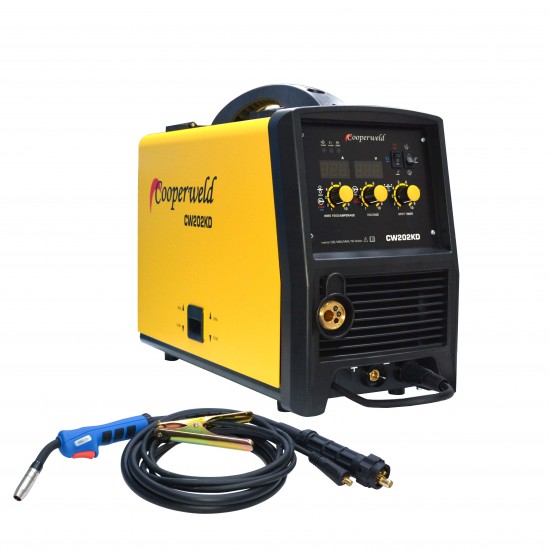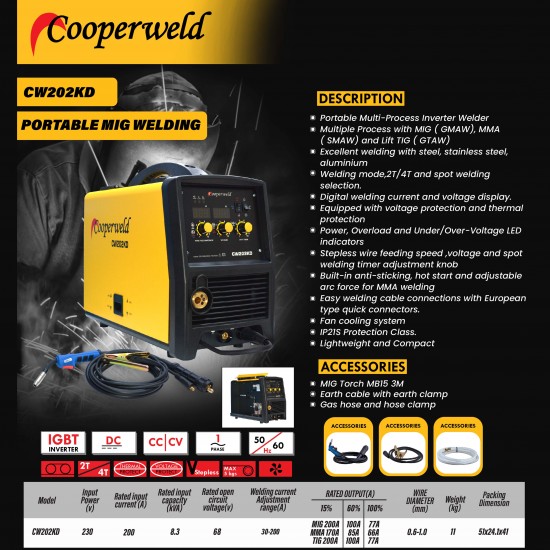 New



PORTABLE MIG WELDING MACHINE
PORTABLE MIG WELDING MACHINE CW202KD
· Portable Multi-Process Inverter Welder
· Multiple Process with MIG ( GMAW), MMA ( SMAW) and Lift TIG ( GTAW)
· Excellent welding with steel, stainless steel, aluminium
· Welding mode,2T/4T and spot welding selection.
· Digital welding current and voltage display.
· Equipped with voltage protection and thermal protection
· Power, Overload and Under/Over-Voltage LED indicators
· Stepless wire feeding speed ,voltage and spot welding timer adjustment knob
· Built-in anti-sticking, hot start and adjustable arc force for MMA welding
· Easy welding cable connections with European type quick connectors.
· Fan cooling system
· IP21S Protection Class.
· Lightweight and Compact
ACCESSORIES
· MIG Torch MB15 3M
· Earth cable with earth clamp
· Gas hose and hose clamp
Model:

CW202KD

SKU:

CW202KD
Always Safety
Don't compromise on your personal protection equipment and risk injuring yourself on the job.
Design & Functionality
Our machines are designed for excellence and quality; having precise control over the power spectrum.
Warranty
We ensure your complete satisfaction on all Premier Products with onsite / offsite warranty.